Description
Parkour Cross is a new pram, available in 4 Specials leatherette fabrics. With its only 50cm wide narrow chassis, the Parkour Cross is easy to manoeuvre in compact spaces.
It includes chassis + large PLW ultra light carrycot + reversible IPB seat with hood.
For a complete travel system, the optional Easymaxi group 0+ infant car seat is available.
The carrycot supplied with Parkour Cross cannot be used in the car.
a The ergonomic rubber coated handle is removable and height-adjustable.
b Telescopic folding system, for smooth opening and folding.
c Swivel or straighten the wheels with one touch of a button, no need to touch the wheels.
d Linked brakes on rear wheels.
e Rear wheels with ball bearings and adjustable suspension, for a smooth ride.
f Front and rear wheels are easy to attach and detach, for more compact folding.
g Front wheels, with swivelling mono-arms with suspension and ball bearings for greater comfort and manoeuvrability.
h Large basket.
i Fit the carrycot, pushchair seat or car seat easily, without adaptors.
Opened

Width

50 cm

Height

103 cm

Depth

 90 cm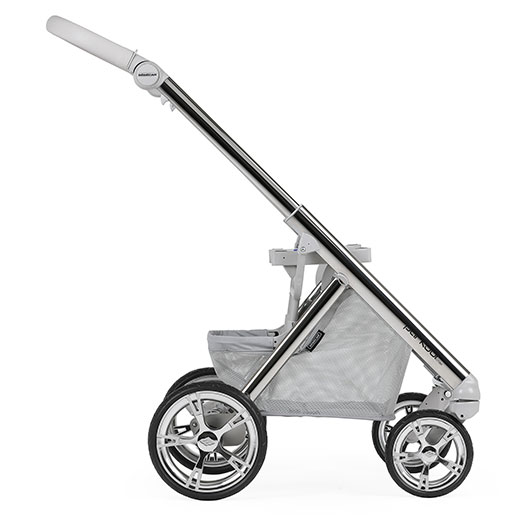 Closed

Width

50 cm

Height

83 cm

Depth

33 cm
Approx. weight with basket: 8,0 kg.