Description
Dupla is a versatile, adaptable chassis that can be used as a single or double pushchair. Designed to grow with your family, simply buy and fit the adaptor bar and second seat when you need it.
You can even convert it back to a single pushchair when your older child wants to walk. There's no need to send it away – it's easy to do yourself.
It includes chassis with Book pushchair seat with extra hood + raincover. It incorporates a removable leatherette coated handle, for truly compact storage or to allow you to reduce the chassis size or simply to change the colour of your pushchair.
Also available for the Dupla:
• Tandem adaptor bar,
• Carrycot,
• Second pushchair seat with hood,
• Easymaxi infant car seat.
a The ergonomic leatherette coated handle is removable and height-adjustable.
b "Rolling" fold system, for smooth opening and folding.
c Swivel or straighten the wheels with one touch of a button, no need to touch the wheels.
d Optional adaptor easily converts the chassis from single to tandem pushchair.
e Linked brakes on rear wheels.
f Front and rear wheels are easy to attach and detach, for more compact folding.
g Rear wheels with ball bearings and adjustable suspension, for a smoother ride.
h Front wheels, with swivelling mono-arms and ball bearings for greater manoeuvrability.
i Fit the carrycot, pushchair seat or car seat easily, without adaptors.
j Large shopping basket.
Opened (without the adapter)

Width

63 cm

Height

100 cm

Depth

118 cm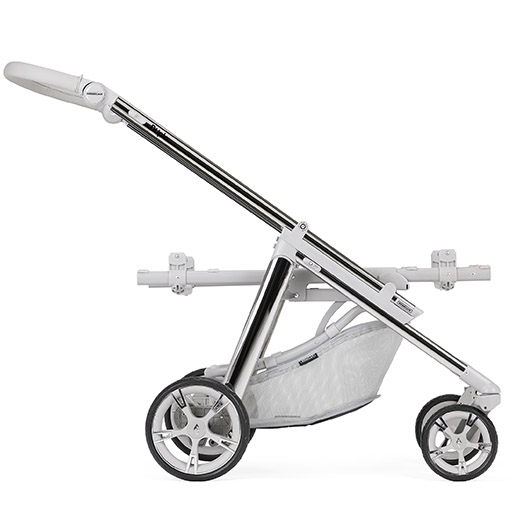 Closed (without the adapter)

Width

63 cm

Height

94 cm

Depth

39 cm
Approx. weight: 8,9 kg (without the removable adaptor) | 11,0 kg (with the adaptor).